| | | | | |
| --- | --- | --- | --- | --- |
| GA Dept. of Education | | | | GA Dept. of Revenue |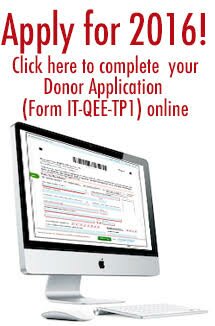 Apply Online now for your 2017 Tax Credit. Click the above icon.
Social Profiles
Donate
Helpful Tax Filing Tips
Helpful Tax Tips
Sample GA Form 500
Print our brochure
Why Choose FFG?
Contact Us
Faith First Georgia
2016 CAP met on January 4, 2016
The 2016 Qualified Education Expense Credit cap of $58 million was reached on January 4, 2016. All applications received on January 4, 2016 were prorated down to the $58,000,000.00. The proration percentage is anticipated to be 53.36%. The Department Of Revenue is in the process of mailing out preapproval letters for applications received; and denial letters for applications received after the cap was reached.



Thank you to all who signed the petition to Raise the Cap. We had great results and the petition has been delivered.

Welcome to the Faith First Georgia website!
We appreciate your interest and encourage your participation in this exciting opportunity. Faith First Georgia was formed for the express purpose of helping to transform the availability of Christian education for parents in Georgia. Faith First Georgia is committed to supporting schools that maintain a Christ-centered focus in their efforts to educate the next generation of Georgians.
If you are a parent, we invite you to contact one of Faith First's Partner Schools to learn how you can apply for a scholarship for your child to attend one of our schools that, in your opinion, will best serve your family's educational needs.
All scholarship applications are taken by the schools.
If you are an individual or the representative of a corporation, we hope that you will use our website to learn more about the importance of school choice and about how to make a donation that will qualify for a tax credit that can be applied against your Georgia income tax liability.
I invite all of you — parents and interested donors — to join us in this important undertaking. Together, by facilitating school choice, we can help thousands of parents succeed as the first and most important educators of their children.